Equity, Diversity and Inclusion
We are committed to enhancing diversity within the UCSD DEM including the residency. Through mentoring and support, we aspire to increase the numbers of underrepresented healthcare professionals and empower them to be future leaders in medicine.
The UC San Diego office of Graduate Medical Education and EDI committee will be hosting a Justice, Equity, Diversity, and Inclusion (JEDI) virtual open house for students and residents applying to UCSD training programs - Wednesday January 12, 6-7 PM (Pacific Time). 
We'll start with a Webinar-based overview of Equity and Diversity-related efforts/activities taking place across UCSD Health - provided by several informed UCSD faculty - ~6-6:20 PM.
This will be followed by Zoom breakout rooms where you can meet with current UCSD trainees to hear their perspectives about EDI and where you can ask questions related to this area, ~6:20-7 PM. 
The focus of this event is on EDI – it is not meant as an event to learn general information about our programs.  Questions about recruitment, interviews, and other specifics about UCSD's programs can be answered via our program's web sites, leadership and/or other recruitment activities/information sources.
Faculty will not participate in breakout rooms so that applicants can feel comfortable asking candid questions.  
Webinar Info:  Wednesday January 12, 2022 – 6-7 PM Pacific Time (US and Canada)  

Please Click Here To register!  
https://uchealth.zoom.us/webinar/register/WN_nYEs0Bc9Q9COyLu9xNZSyg
Links to the Zoom break out rooms that will immediately follow the Webinar will be made available during the Webinar.
Thank you for considering UC San Diego!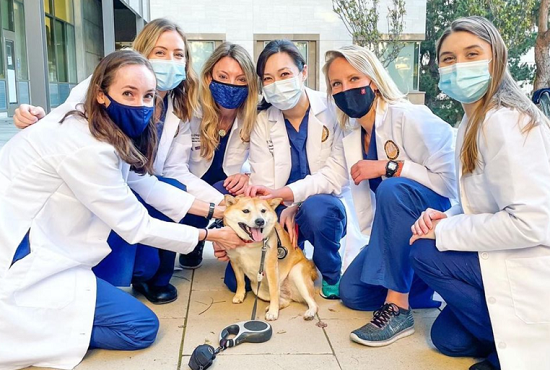 Women in Emergency Medicine (WEM)
WEM meets quarterly for social activities such as hiking, painting, picnics, book club, kayaking, etc. to encourage friendship and informal mentorship between the faculty, fellows, and residents. We host "meet and greet" events with visiting grand rounds speakers with the intent to create an informal environment where women in the UCSD Department of Emergency Medicine can learn from one another, and from our speakers. Speakers who visit our department as guest speakers possess a wealth of knowledge and breadth of personal and professional experiences, which are an invaluable resource for all of us, regardless of career stage.
Informal WEM events occur quarterly and have included painting, book club, and combined EM/IM panel discussions.
LGBTQ+
Our UCSD Hillcrest location is a part of the neighborhood that stands as San Diego's LGBTQ+ central hub.  UCSD is highly supportive of LGBTQ+ patients, faculty, residents and staff, and we include LGBTQ+ related health Issues in our curriculum.  Topics have included implicit bias, HIV and STIs, transgender healthcare, and psycho-social aspects of the LGBTQ+ experience related to disproportionate healthcare outcomes.

UCSD DEM faculty and residents are involved in several UCSD initiatives, including the Chancellor's LGBTQ+ Advisory Committee, our very own UCSD DEM Diversity Committee, and Underrepresented in Medicine events.
We encourage LGBTQ+ applicants to join our family and welcome you to explore UCSD's LGBTQ+ Resource Center.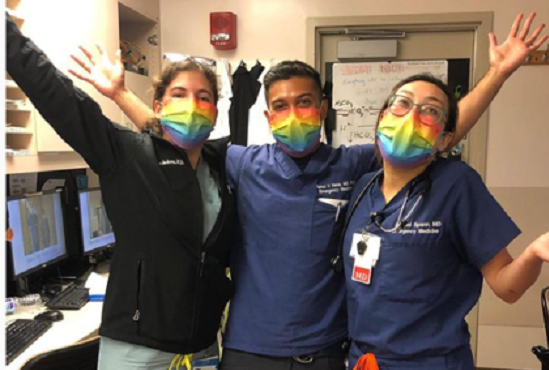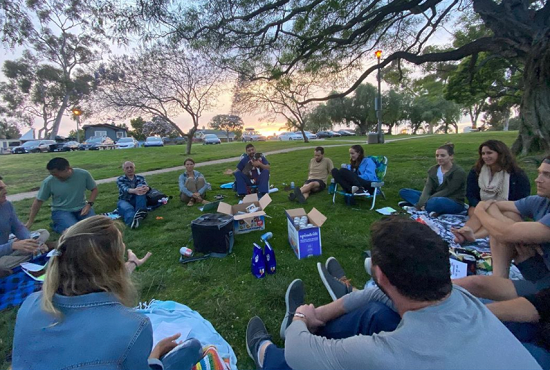 Social Justice in Medicine
09/01/20:  Implicit Bias
11/12/20: 2nd Annual Clothing & Toiletry drive for people experiencing homelessness
 11/19/20: Social Health Inequities
Wong et al: qualitative study of experiences of patients restrained in the ED
Pope: NAMI article on racial disparities in mental health care and criminal justice
Schnitzer et al: MGH study on racial disparities in restraint use in the ED
 1/26/21: DEM Journal Club
Greene - thrombolysis and implicit bias
Analgesia and race
Microaggressions
 1/28/21: Social EM JC: Illicits use
Structural factors associated with methamphetamine smoking among female sex workers in Tijuana, Mexico
Background information: San Diego Methamphetamine Strike Force Report Card
 2/23/21: Webinar: Exploitation of Vulnerabilities & Adaptations Amidst COVID      
 2/25/21: Webinar: Intersection of Human Trafficking & Addiction with a Focus on the Opioid Crisis
 3/02/21: Webinar: Human trafficking Awareness Webinar
 4/15/21: Social Justice JC: "Asylum Seekers: Health Care, Safety, and Policy"
 4/21/21: IM Grand Rounds: "Health Disparities and Health Equity Research in the Time of COVID-19"
 5/04/21: DEM Conference: "Teaching LGBTQ+ Health' Online Faculty Development Course: How You Can Use Digital Technology for Medical Education". Dr, Mike Gisondi, Stanford
 6/08/21: DEM Grand Rounds: "Teaching Cultural Competency to Residents", Dr. Lisa Moreno, LSU
 7/09/21: Social Justice Journal Club: "Charged Terminology and Medical Care"
 9/23/2021: Kick off date for our new UC San Diego Medical School course "Homeless Healthcare"
10/21/2021: Death and Dying Poor in the US
UCSD EM Research in Health Disparities
SAEM Abstract:
Self M, Wardi G. Female Sex and Obesity Are Associated With High Tidal Volume Ventilation in the Emergency Department. Lighting Oral Presentation at Society for Academic Emergency Medicine. May, 2021. 
*this led to Brenna Hogue's QI project to accurately measure patients in the ED to prevent this disparity.
American Heart Association Abstract:
Baille A, Speck T, Sell R, Wardi G. Gender Based Differences in Cardiopulmonary. Resuscitation in the Inpatient setting. Resuscitation Science Symposium 2021. Boston, Massachusetts. November, 2021. 
ACEP Abstract: 
Finch N, Speck V, Tainter C, Sell R, Wardi G. Effect of Gender, Race, and Ethnicity on Duration of Resuscitative Efforts following OHCA. ACEP Research Forum 2021, Boston, Massachusetts. October, 2021.