Division of Ultrasound Medicine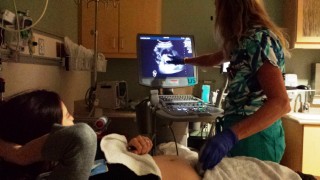 Our Ultrasound Division began offering a fellowship in July of 2010, accepting one to two fellows per year. Our Ultrasound Division began offering a fellowship in July of 2010 which accepts one fellow per year. Colleen Campbell, MD RDMS is the Fellowship Director and director of Emergency Ultrasound. Mary Beth Johnson MD is the Associate Fellowship Director. 
Anthony Medak, MD is the Associate Director of Emergency Ultrasound and the director for our fourth year medical student elective in Emergency Ultrasound. The students take part in Quality Assurance image review and have extensive didactic and hands-on ultrasound experience during their elective. 
Our residents graduate with certification in Emergency Ultrasound after doing four weeks of ultrasound during their training period. They complete at least 150 scans during their residency as outlined by ACEP guidelines. We also have had the opportunity to have rotating residents from other programs complete one month electives in Ultrasound. We have several ongoing US research projects and are in the process of starting several more.
We are active in training other faculty in US and have many other faculty who are near certification in Emergency Ultrasound.
Our department meets each Wednesday of every month for QA sessions. Sessions are typically held at 9:00 am in the Guss conference room. During these sessions interesting US scans are reviewed, and appropriate feedback is provided to residents and attendings. We have journal club incorporated into each QA session, during which time we review current literature pertinent to emergency ultrasound.
We are currently using Zonare z.one US machines in our departments as well as GE logics. 
We look forward to many happy scanning days ahead!
See more information on the Division of Ultrasound Website