Undersea & Hyperbaric Medicine Fellowship Educational Locations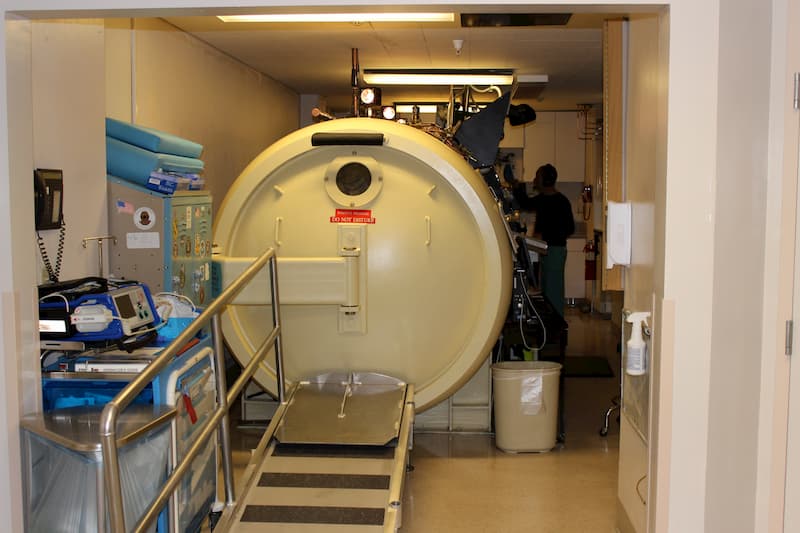 UCSD Medical Center Hillcrest
The UCSD hyperbaric chamber is a large multiplace chamber at UCSD Medical Center Hillcrest that is capable of treating the full range of conditions amenable to hyperbaric oxygen therapy. The staff is on call 24 hours per day, 7 days per week. UCSD Medical Center has a full service clinical laboratory and radiologic services including digital x-rays, CAT scan, MRI, and ultrasound available 24 hours per day. UCSD Medical Center Hillcrest is a Level 1 Trauma Center and the Regional Burn Center. There is a 20-bed SICU, 13-bed CCU, 6-bed MICU, 8-bed burn unit, Neonatal Intensive Care Unit (NICU), and a step down intermediate care unit, in additional to telemetry and floor beds. 
UCSD La Jolla
We also treat patients at UCSD Medical Center La Jolla. Full outpatient facilities are available at UCSD including clinics in orthopedic surgery, plastic surgery, vascular surgery, and wound clinic. The UCSD Occupational and Environmental Medicine Center serves as the outpatient clinic for our Diving Medicine Clinic; our fellows perform fitness to dive evaluations for commercial and scientific divers, as well as sport divers for clearance to dive or diving problems. 
UCSD Hyperbaric Medicine & Wound Care Center - Encinitas
The UCSD Hyperbaric Medicine & Wound Care Center in Encinitas operates an additional multiplace chamber and wound care clinic. 
Additional Sites
The San Diego Regional Poison Center is located at UCSD Medical Center and provides 24-hour on-call services for carbon monoxide poisoning. UCSD is also affiliated with the VA hospital in La Jolla and the El Centro Regional Medical Center in El Centro, CA.