Where You Rotate
UCSD Hillcrest Medical Center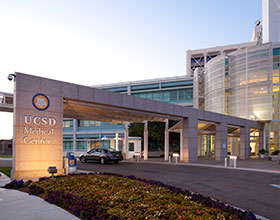 The Hillcrest ED is the only licensed "Comprehensive" ED in San Diego, Imperial, or Riverside counties. It represents the primary training site for the UCSD School of Medicine, and is one of only four Comprehensive Care Facilities in California. The Hospital has 390 beds and over 50,000 visits last year. The ED has 36 beds including three critical care beds and one resuscitation bay. It has its own dedicated X-ray unit and 360-slice CT scanner, and MRI is located contiguous to the ED. It is a designated County Base Station for oversight of prehospital Emergency Medical Services, acute cardiac STEMI receiving center, and comprehensive stroke care center. In addition, the UCSD Hillcrest Medical Center is a Level 1 trauma center and the only Regional Burn Center for San Diego and Imperial counties. The Hillcrest Medical Center also has a busy Hyperbarics Division housed within the Department of Emergency Medicine and is the home of the Diver's Alert Network (DAN). The DEM Ultrasound and Toxicology divisions are also both primarily located at this site. The ED is staffed by single or double faculty coverage throughout the day, as well as multiple EM residents, as well as rotating housestaff from Internal Medicine, Plastics Surgery, ENT, Urology, Orthopedics, Psychiatry, and Family Medicine.​
UCSD La Jolla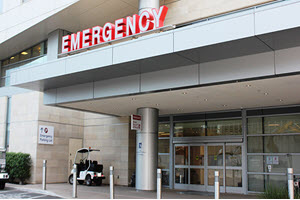 UCSD Jacobs Medical Center (JMC) includes the original Thornton Hospital (now Thornton Pavilion) which opened in 1993, and JMC, which opened in 2016: a state-of-the-art, 245-bed, 10-story inpatient facility and innovative advanced medical center with areas focused on advanced surgery, cancer care, and women and infants care. The La Jolla site includes the Sulpizio Cardiovascular Center, the region's first academic-based facility combining all heart and vascular-related services, as well as the NIH-designated Moore's Comprehensive Cancer Center, the only such nationally recognized facility in San Diego and Imperial Counties. The UCSD La Jolla ED has 32 beds including 4 critical care beds, and has more than 30,000 patient visits per year, with notably high acuity due to its location at the JMC quaternary care center, NIH Cancer center and Cardiovascular center. The ED is staffed by single or double attending faculty coverage along with one senior EM resident during the day and evening hours. In 2018, the ED expanded, incorporating the Gary and Mary West Senior Emergency Department, an advanced Geriatric acute care unit – the first of its kind in California.
Rady Children's Hospital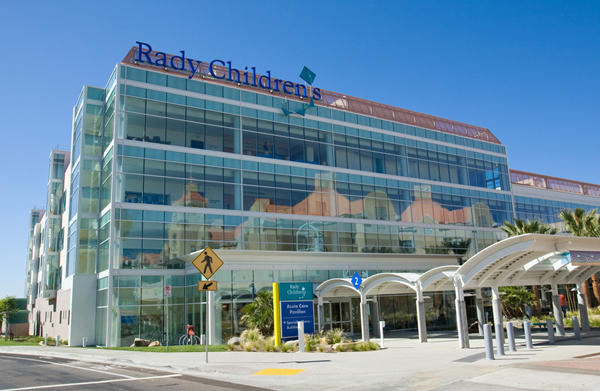 Rady Children's Hospital, San Diego (RCHSD) is the largest children's hospital in California and one of the largest in the nation. RCHSD, as an official affiliate with UC San Diego, serves as its principle pediatric clinical training site. The hospital is located only a few miles from the UCSD Hillcrest Medical Center, and it's ED is one of the busiest in San Diego, with greater than 96,000 patient visits annually. RCHSD, as well as UCSD Hillcrest, are the sole pediatric trauma centers for San Diego County, and see approximately 1,300 trauma patients annually. Furthermore, RCHSD is the main training site for the UCSD pediatric emergency medicine fellowship, which is directed by one of the UCSD EM faculty members, Paul Ishimine, MD. All of the RCHSD ED attending physicians are board-certified or board-eligible in pediatric emergency medicine. EM residents also rotate through the operating rooms at RCHSD in order to gain additional advanced pediatric airway management, ultrasound and vascular access experiences.
El Centro Regional Medical Center (ECRMC)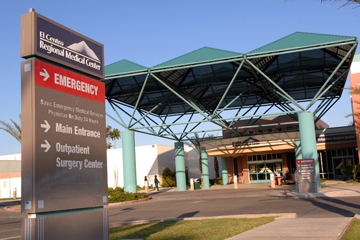 El Centro Regional Medical Center (ECRMC) is a 120 bed hospital that serves a rural population along the US-Mexico border, serving the El Centro community of 100,000 residents, as well as drawing on patients from Mexicali, a nearby cross border town of 2 million residents. It is located about 90 minutes east of UCSD Hillcrest Medical Center just off the I-8 freeway. The hospital's Chief Medical Officer is a nationally known UCSD EM faculty – Dr. Christian Tomaszewski. As part of the affiliation agreement for the hospital, UC San Diego Health manages the ED, with over 50,000 visits a year (one of the busiest patient/bed ratios in Southern California), and growing at a rate of about 6% a year. By having our own UCSD faculty and residents rotate at this rural site (without many on-call specialists), they get to hone their clinical acumen and critical procedures. UCSD PGY-1 residents rotate here on Labor and Delivery, where they average 3-4 deliveries per day, and Anesthesia, which allows them to maximize their training time while awaiting OB deliveries. PGY-2 EM residents rotate here for 2 weeks. PGY-4  residents spend a week at ECRMC as they prepare for independent practice. Residents may request additional time at ECRMC during electives later during residency.
Mercy Air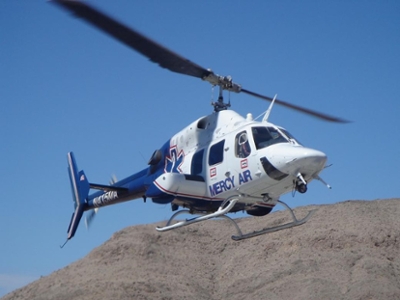 Mercy Air is owned by Air Methods, the largest air medical provider in the country. Since 1993, UCSD EM residents have flown as active crew members (not just as observers) with a certified flight nurse on Mercy Air. UCSD is one of the few EM residency programs in the country in which aeromedical transport is an integral part of the training program. The experience is longitudinal throughout the residency training period starting in the PGY2 year. Residents undergo a month-long training period and then staff the helicopter monthly throughout the rest of their residency. While flying, our residents transport trauma and medical patients primarily from the scene, representing the most acutely and critically ill of the prehospital patients transported, and allowing them to perform advanced airway management including RSI, cricothyrotomy, chest tubes, vascular access, and other advanced procedures. Of note, this is an optional, but highly popular experience.
Palomar Medical Center (PMC)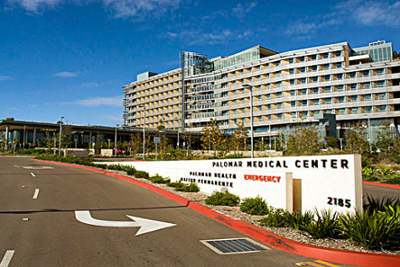 Palomar Medical Center (PMC) is located in the city of Escondido just northeast of San Diego. PMC serves Escondido and the surrounding area, covering over 1,600 square miles and a population of over 300,000 residents. It is staffed by the Vituity medical group. PMC has greater than 45,000 ED visits a year, including a large percentage of pediatric patients. The PMC ED also manages a 5-bed observation unit and 10-bed "fast-track". PMC has a large prehospital base station running over 1,000 calls a month, and PMC is one of five Trauma Center hospitals in San Diego (and the only Trauma Center in northern San Diego County).
Vituity manages >300 emergency physicians and 40 emergency departments and urgent care centers throughout California, and it is active in the California chapter as well as national ACEP. The group is committed to "high quality" practice with an emphasis on cutting edge Emergency Medicine. The rotation at PMC will provide the residents the opportunity to learn first-hand about emergency medicine administration, managed care, and political issues important to emergency physicians. UCSD EM residents rotate in the ED at PMC for 3 weeks during each of the PGY-3 and PGY-4 years. ​
Tri-City Medical Center (TCMC)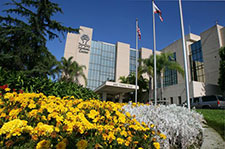 Serving a population base of over 450,000 residents and more than 55,000 ED visits/year, the TCMC's ED provides a "bread-and-butter" community practice experience for the residents. UCSD EM residents rotate 3 weeks at TCMC during both the PGY-3 and PGY-4 years. With board-certified EM attending supervision, they evaluate and treat a wide variety of critically ill patients, of all age groups.
VA Medical Center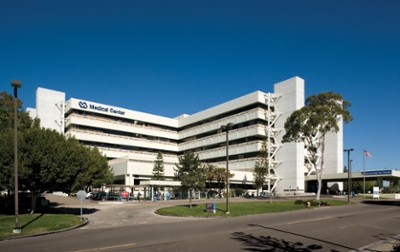 The VA San Diego Healthcare System (VASDHS) is located adjacent to the La Jolla UCSD campus and is affiliated with the UCSD School of Medicine. It provides high quality health care to more than 85,000 Veterans in the San Diego and Imperial Valley counties, with 247,074 Veterans living in the area. The VA provides medical, surgical, mental health, geriatric, spinal cord injury, and advanced rehabilitation services. VASDHS has 296 authorized beds, including skilled nursing beds and operates several regional referral programs including cardiovascular surgery and spinal cord injury. UCSD EM PGY-1 residents rotate for 4 weeks at the VA ED.