Emergency Medicine - Critical Care Medicine Fellowships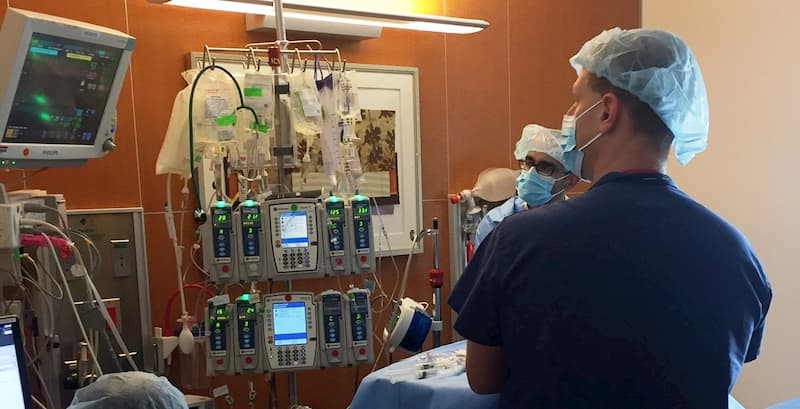 In 2011, the American Board of Internal Medicine (ABIM), in conjunction with the American Board of Emergency Medicine (ABEM) approved the first pathway for board certification in a Critical Care specialty for Emergency Medicine (EM) graduates. In 2013, both the American Board of Anesthesiology (ABA) and the American Board of Surgery (ABS) also approved combined certification, meaning that now EM graduates are board-eligible through any of the three pathways. 
Overview
The Department of Emergency Medicine supports two board-eligible critical care fellowship pathways in combination with both the Department of Anesthesiology (ACCM) and the Department of Medicine (IM-CCM). Each fellowship track is two years, in accordance with the ABEM requirements. 
IM-CCM Emergency Medicine Pathway: The Division of Pulmonary, Critical Care and Sleep Medicine (PCCSM) welcomes EM-trained physicians and prepares them to care for a broad range of critically ill patients. The rotations span all three medical centers of UCSD – downtown Hillcrest campus, La Jolla Jacobs campus and La Jolla VA medical center. The Hillcrest rotation exposes fellows firsthand to our level-one trauma center, city's burn center, and interventional pulmonology program. The VA medical center manages spinal cord and other complex neuromuscular injuries, ventilatory control defects, and covers post-surgical patients in addition to standard VA medical ICU admissions. The medical ICU teams at Hillcrest and VA medical center include internal medicine interns and residents; house staff teaching is expected and required during these rotations. The Jacobs campus continues to expand with exposure to many cancer-related complications including bone marrow transplant, pulmonary vascular medicine services (destination program for pulmonary thromboendarterectomy, balloon pulmonary angioplasty and complex PAH management), lung transplantation, palliative care and obstetric emergencies. The division is perennially one of the top ranked programs in the country and offers ample opportunity for research and elective time during the 2 year fellowship. We are accepting qualified emergency medicine applicants for the 2022 fellowship cycle. Please note, EM applicants should apply as Critical Care, not Pulmonary Critical Care applicants. 
The IM-Emergency Medicine fellowship accepts applications through ERAS.
For more information:
ACCM-Emergency Medicine Pathway: Anesthesiology Critical Care Medicine (ACCM) focuses on care of the critically ill with special emphasis on post-surgical management. At UCSD, there is a focus on cardiothoracic surgical patients (including heart transplants, lung transplants, left ventricular assist devices, and VA-ECMO), in addition to general, oncological, and trauma surgery patients. The fellowship experience provides a multi-disciplinary experience among the various Surgical ICUs, as well as the Neuro ICU, and the Medical ICUs. Additional time is reserved for research projects, electives, and training in bronchoscopy and both transthoracic and transesophageal echocardiography (graduates will be proficient at both). 
The ACCM-Emergency Medicine fellowship accepts applications through the SF Match.
For more information:




 

Emergency Medicine: