Clinical Research Scholar Fellowship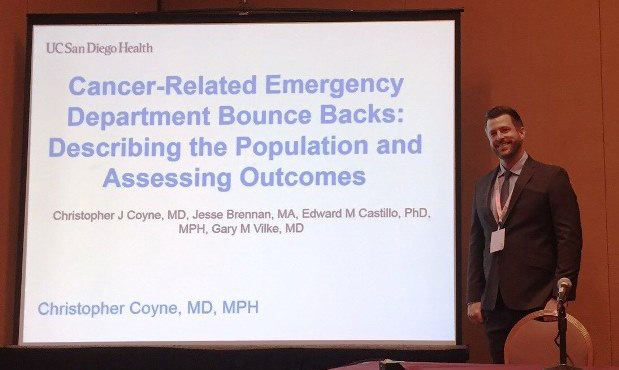 UCSD Emergency medicine is excited to offer a two-year clinical research scholar fellowship beginning in July of 2010. We will be accepting one or two fellows per year.
Overview
The UCSD Department of Emergency Medicine Clinical Research Scholar program is designed to train promising EM investigators in the field of emergency medicine research. Research scholars will be paired with a senior faculty member in the department, with the goal of helping academic-minded emergency physicians become funded clinical research scientists.
The duration of the fellowship is two years. During the first year of the program, research scholars who do not have an advanced degree in research methodology (ie, MPH or PhD) will concentrate on didactic coursework and on conducting preliminary work on a research project in the scholar's area of interest. During the second year, scholars will finish research projects and develop a grant proposal. Scholars with advanced degrees may pursue such coursework as is needed to supplement their interests or research, or may choose to concentrate their time in developing additional projects. Coursework is available both through the UCSD campus for a Masters in Public Health and also through the Clinical Research Enhancement through Supplemental Training (CREST) program.
Objectives
The goal of the fellowship is to provide both mentored research career development and continuing clinical expertise in Emergency Medicine. Excellence in emergency medicine research will be evidenced by publications in peer-reviewed Emergency Medicine or other medical journals; local, national, and international recognition as a content expert in an area of focus; and demonstrated skill in grant writing. A major goal of the grant-writing portion of the fellowship will be to develop the fellow into an independently funded emergency medicine researcher. In order to accomplish this goal, scholars will be expected to collaborate extensively with senior faculty during preparation of research projects, primarily in their area of focus.
Clinically, research scholars will also be given opportunities to gain experience as a mentor and educator for emergency medicine residents, off-service residents, and rotating medical students. The goals of this portion of the fellowship will be to obtain and sharpen clinical skills necessary to maintain excellence in clinical practice; develop clinical expertise that is complementary to the candidate's chosen area of emphasis; and pass the examinations necessary to secure ABEM certification in Emergency Medicine.
Responsibilities
Deliver one lecture per year to Emergency Medicine residents in the focus area.
Participate in monthly research conferences in order to develop and deliver research education lectures to faculty and residents.

Actively participate in other departmental educational activities such as journal club, grand rounds, case conferences, and resident/student teaching.

Serve as reviewer for the Journal of Emergency Medicine.

Actively participate in one or more divisions of the Department of Emergency Medicine to develop area of focus

Participate in the UCSD research assistant program/Faculty Mentor Program.

Provide formal mentorship to selected Emergency Medicine residents or medical students working on research projects.

Provide clinical service to the department at a level determined by the departmental chair.
Program Description
The UCSD Department of Emergency Medicine has historically been one of the most academically productive departments in the country (Henderson et al). Each research scholar will function as a clinical instructor within the Department of Emergency Medicine, but will have access to some of the most productive scholars in the country.
Fellows have the opportunity to obtain a Masters in Public Health through a collaboration with San Diego State University. Alternatively, fellows can obtain a Masters in Science through the UCSD Clinical Research Enhancement through Supplemental Training (CREST) program. For those that already have an advanced degree, supplemental classes in research methodology can be taken through the CREST program. 
Directorship
The program will be headed by Christopher Coyne, MD, MPH. UCSD Emergency Medicine Research scholars will meet regularly with both Dr. Coyne and senior faculty as appropriate to area of focus. These faculty members will jointly form a committee which will supervise each scholar's progress. Research scholars will be required to submit progress reports every six months to the department chair and the Department of Emergency Medicine clinical research directors.
Mentor
Selected Emergency Department senior faculty will serve as a mentor for each scholar. In selected cases, scholars may also select additional mentors outside the department if this contributes to their area of focus.
Prerequisites
Applicants must be board-certified or board-eligible emergency physicians. We will accept physicians who have completed a four year residency in Emergency Medicine or those who have completed a three year residency program and have at least one year of post-graduate training. Applicants from three year residencies can apply, but will have to have modified clinical activities during the first year of the fellowship. Applicants must be board certified or prepared in Emergency Medicine. If interested in the CREST program or MPH, candidates must be accepted separately. Acceptance into these programs is not required for acceptance into the UCSD clinical research scholar program.
Evaluation
Scholarly publications in emergency medicine journals will be considered the minimal requirement for completion of the program. The participant's performance will be formally reviewed by the fellow's mentor as well as faculty advisors from both within and outside the Department of Emergency Medicine. Clinical performance will be evaluated by both the Emergency Department Medical Director and Chairman of the Department of Emergency Medicine. Written feedback will include evaluations by all training physicians and students who were mentored by the fellow. Formal evaluations of the research directors, mentor, and other faculty will also be completed by the fellow at the end of each year.
The success of the program will be measured by the scholarly activity of the candidates during and after graduation from the program as evidenced by publications in peer-reviewed Emergency Medicine and general medical journals; local, national, and international recognition as expert in an area of focus; demonstrated skills in grant writing; and development of expertise in the focus area.
Facilities
UCSD medical center is an urban teaching hospital in San Diego, California, comprised of 450 beds. All services are offered in the hospital, including liver and kidney transplants, medical, surgical and pediatric specialties. It is located in the area of Hillcrest, close to downtown San Diego. The UCSD Jacobs Medical Center is in La Jolla. It has an active oncology service through the Moore's Cancer center and currently has a 150 bed capacity. Hillcrest has 24 hour emergency resident coverage. Residents work during the day at Jacobs along with two attending physicians.
Clinical Shifts
Fellows with a background in Emergency Medicine are expected to maintain their primary board skills in the ED. Opportunities are available at both UC San Diego Health sites, Rady Children's Hospital, the San Diego VA and El Centro Regional Medical Center.
Salaries
The fellow is funded through the clinical hours they work as this is a non ACGME fellowship.
Full benefits including medical and dental will be provided by UCSD during the fellowship. Four weeks of vacation are available during the fellowship. All conferences at which the fellow presents research will be paid for by the Emergency Department.
Program Leadership
Related Links
Frequently Asked Questions
Recruitment for the following academic year opens in May and applications will be accepted through mid October. Interviews will be scheduled with candidates starting in July and will run through the end of October. Offers will be extended before the end of December.
The Clinical Research Fellowship is a two-year, non-ACGME accredited program.
We expect to be able to offer slots for 2 candidates per year of the fellowship.
Fellows must be board-eligible in any emergency medicine. Although the primary training site is UC San Diego Health, rotations are also offered at Rady Children's Hospital, Veterans Administration Medical Center, San Diego, and El Centro Regional Medical Center.
International medical graduates are eligible to apply to the Clinical Research Fellowship if they are US Board eligible in emergency medicine, and they must have graduated from an ACGME accredited residency program. For more information about the application process for international medical graduates, click 
here
.