Wilderness Medicine Fellowship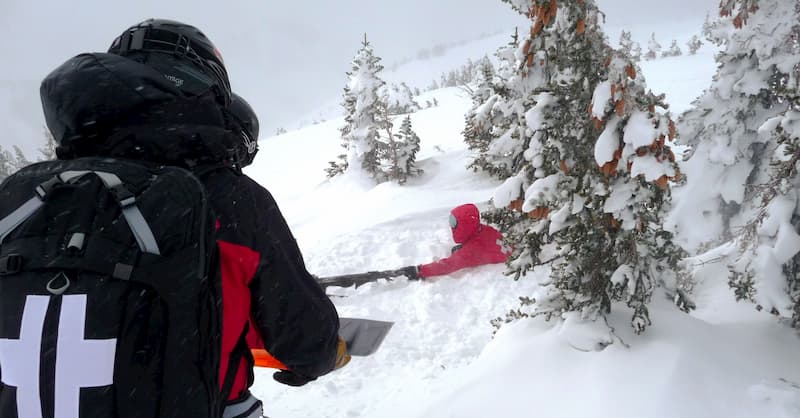 "The tendency nowadays to wander in the wilderness is delightful to see. Thousands of tired, nerve-shaken, over-civilized people are beginning to find out that going to the mountains is going home; that wilderness is a necessity. Awakening from the stupefying effects of the vice of over-industry and deadly apathy of luxury, they are trying as best they can to mix and enrich their own little ongoings with those of Nature, and to get rid of rust and disease."
- John Muir
Overview
Practicing effective emergency medicine outside the convenience of the modern hospital can prove challenging. Wilderness Medicine is a growing field that is increasingly recognized within emergency medicine, as well as by professionals and enthusiasts in outdoor recreation, humanitarian and disaster relief, military medicine, scientific research and exploration. In the United States emergency departments are well-equipped with the core resources (facilities, equipment, staffing, consultants) needed to diagnose, treat and, if needed, stabilize patients until a higher level of care is available. It is incumbent to have physicians trained to meet the unique challenges and emergencies that arise in diverse environmental conditions far from definitive medical care. There are currently less than 20 Wilderness Medicine Fellowships in the United States.
The UCSD Wilderness Medicine Fellowship is a unique and comprehensive fellowship program which aims to provide clinicians with the critical thinking, applied hands-on training experience and improvisation skills necessary to deliver high-quality care in the world's most austere environments with varying resources and limited access to health care.
Why UCSD EM is a Leader in Wilderness Medicine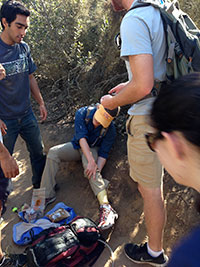 The UCSD Wilderness Medicine Fellowship is the premier fellowship program for emergency physicians to train in this dynamic multidisciplinary specialty. San Diego offers a complete array of environmental exposures - desert, ocean, rivers, mountains, international, while having ties to disaster relief, aerospace and military medicine, and travel and tropical medicine. Fellows at UCSD will gain experience to become educators and leaders in Wilderness Medicine. Within the UCSD Department of Emergency Medicine existing fellowship programs can provide unique opportunities for exposure to and participation in areas of wilderness and austere medicine:
UCSD DEM Undersea and Diving Medicine Fellowship - offer unique experiences to train in diving and hyperbaric medicine with the Clinical Hyperbaric Medicine Service, San Diego Center of Excellence in Diving and Diving Medicine Clinic.
UCSD DEM Toxicology Fellowship - Clinical Toxicology Service, association with California Poison Control System, Collaboration with Zoological Society of San Diego to manage venomous animals and ativenoms.
UCSD EMS Fellowship - DMAT CA-4 disaster relief teams, aeromedicine program. 
Other unique experiences specific to UCSD:
Yanamono Clinic, Amazon basin, Peru
Flying Samaritans international work in Baja, Mexico
Telemedicine
UCSD Simulation Center
Jackson Hole Avalanche Mitigation and Ski Patrol
Divers Alert Network
FAA Flight Physiological Training and FAA Post-Crash Survival Training
San Diego Center of Excellence in Diving
University of California White Mountain Research Center
UC San Diego Global Health Initiative
San Diego Mountain Rescue Team (SDMRT)
Collaboration with Naval Medical Center Balboa DEM wilderness medicine lecture series
Outstanding UCSD DEM faculty already considered experts in all aspects of wilderness medicine
The Institution
UC San Diego Medical Center is located in the Hillcrest area of San Diego, twelve miles from the UCSD School of Medicine. The clinical complex includes a 466-bed acute hospital, an Ambulatory Care Center offering 148 specialty and subspecialty clinics and ambulatory facilities, the Family Medicine Center, the Primary Care Center, the Internal Medicine Group Practice, and the Moores Cancer Center. UCSD Medical Center serves as a diversified population of inner city and suburban patients, while offering accredited training programs in virtually all of the major medical and surgical specialties.
The Medical Center offers a full range of primary, secondary, and tertiary care services. It serves as the Level I Trauma Center for both San Diego and imperial Counties, and offers numerous highly specialized services including the Regional Burn Center, the Infant Special Care Center, the Regional Transplant Center, the Comprehensive Central Nervous System Injury Center, and the General Clinical Research Center. UC San Diego has a 4-year fully ACGME-accredited emergency medicine residency program that began in 1990 and graduates 9 residents per year.
About the Wilderness Medicine Fellowship
The UC San Diego Wilderness Medicine Fellowship is a one year clinical and educational experience. The goals of the fellowship are to provide physicians with knowledge, formal training, and clinical skills in Wilderness Medicine. Each fellow will be expected to further their knowledge by performing original research, educating other physicians and medical students, and serving as a medical resource for outdoor organizations. Fellows will attend and present at local, national and international conferences, gaining experience to become educators in Wilderness Medicine. There is a core curriculum; however in addition, the fellow's specific areas of interest will dictate their research and clinical activities. Wilderness Medicine is a multidisciplinary specialty incorporating disaster medicine, toxicology, hyperbaric medicine, ultrasound, all of which are established fellowships in the Department of Emergency Medicine at University of California, San Diego. The Wilderness Medicine fellow will work closely with experts in each of these fields. The goals of our fellowship program include:
Providing a one year clinical and wilderness experience, at the completion of which, fellowship graduates should be prepared to lead or provide expert wilderness medical care anywhere on the globe.
Pursuing intellectually-rigorous research to advance the state knowledge in wilderness medicine and publish these results.
Providing opportunity for extended field experience in the practice of wilderness medicine.
Providing experience teaching wilderness medicine to students, residents, and staff - both in the classroom, simulation center, and in wilderness settings.
Providing opportunity for the fellow to learn/ develop advanced outdoor technical skills (whether ice/rock/alpine climbing, whitewater, diving, etc.).
Providing access to medical experiences in the developing world (remembering that wilderness medicine is defined by the practice of medicine in resource-limited environments - not exclusively by distance from human population centers).
Encouraging exploration of environmental policy issues as they impact human health and well-being.
Providing an ongoing, clinical emergency medicine experience in a Level I trauma center in a busy urban ED.
The Fellowship Objectives and Opportunities
Core didactics and regularly scheduled meetings with the Fellowship Director. 
Attend weekly lectures and discussions on selected seminar topics in fields such as emerging infectious disease, wilderness medicine, environmental health, aerospace medicine, diving medicine, and disaster medicine. 
Work with experts in the field of wilderness and environmental medicine at UC San Diego Health to integrate didactic training with hands-on experience in the clinical setting in specialty areas such as hyperbaric medicine, toxicology, telemedicine, and sonography. 
Membership in the Wilderness Medical Society with concurrent advancement toward becoming a Fellow of the Academy of Wilderness Medicine. 
Active membership and participation in ACEP's Wilderness Medicine Section. 
Attendance at national wilderness medicine conferences. 
Research or other scholarly activity. 
Clinical opportunities in wilderness medicine (search and rescue, EMS management, ski patrol, international medicine with Flying Samaritans, diving and hyperbaric medicine, tropical medicine, etc.) based on the specific area of interest of the fellow with agreement and supervision of the fellowship director.
Resident and Medical Student Education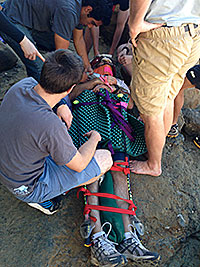 UCSD School of Medicine Wilderness Medicine Electives - We offer both a first/second year medical student elective (EMED 275) and a fourth year elective (EMED 427: Medicine in the Wild: A Fourth-Year Student Clerkship in Emergency and Wilderness Medicine) that include covering diagnosis and treatment of injuries and illnesses encountered in the wilderness environment including cold, heat, high altitude, diving medicine, outdoor orthopedic trauma, plant and marine life poisonings, and survival in the wilderness. The electives include two optional weekend workshops and the fourth year elective includes field experience in remote areas of Southern California. The Wilderness Medicine fellow works directly with the elective directors to present lectures and assist in directing the elective. 
In addition, there are multiple wilderness medicine events sponsored by EMIG and the UCSD Department of Emergency Medicine throughout the year that are open to all medical students. 
The Wilderness Medicine fellow also participates in preparing and presenting on the fundamentals of wilderness medicine to residents, faculty and medical students as part of the Department of Emergency Medicine Tuesday Conferences, developing and executing cases for residents and medical students at Simulation Center and leading 1-2 emergency residency journal clubs dedicated to current research in wilderness medicine.
Program Leadership
Related Links